Admin Edit - With the slue of information given by Comic - con and set images we can safely say that the leaked cast list is pretty solid. Because the listing is using information that we are not suppose to know yet it is not in anyone's best interest to create new pages using that information. However, creating character pages with a name and a brief description should be fine - Giving away any key plot points is not.
More names not visible on the leaked cast listing can be seen, officially, here. - http://www.deadline.com/2014/07/american-horror-story-freak-show-comic-con-panel/
Found this cast list for Freak Show on the web. It's extremely likely that it's not 100% accurate or even real but it's still something to think about.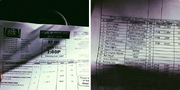 Some things to take note of:
-No other cast members who we know for a fact are confirmed are listed execpt Jessica Lange , Kathy Bates , Sarah Paulson , and Evan Peters .
-The numbering on the left hand side of this list skips several numbers.
-Bette and Dot's last name is Tattler.
-Ann McKenzie's is cast as a character who also has the last name Tattler.
-Erika Erwin is a transgender woman who is the tallest supermodel in the world.
-John Carrol Lynch is cast as a character called "Twisted Clown." This could be a renamed version of "The Clown Killer" character that was confirmed a few months ago.
-Mat Fraiser is a performer with a condition called phocomelia in both his arms.
-Rose Siggins is cast as a character called "Legless Suzi" and does in fact have no legs. 
-According to IMDB, Naomi Grossman  and Christopher Neiman are cast in Freak Show. Both of which are also on this list (however, IMDB is not always the most reliable source).
-Naomi Grossman is cast as Pepper, a character that also appeared in Asylum.
-Ben Woolf (Meep) played The Infantata  in Murder House.
-Grace Gummer played Millie, a witch from the 1919 flashback that helped lead the murder of The Axeman.
-Ramona Tyler (Mildred Bachman) played the mother of Jacques, the young man at Madame Delphine LaLaurie 's Halloween Ball, in Coven.
-Towards the end of the list the picture is dark and therefore difficult to make out specific actor and character names.