Wiki Targeted (Entertainment)
Play Sound
| | |
| --- | --- |
| | This article is incomplete. |
| | |
| --- | --- |
| | This article may be in need of reorganization to comply with guidelines for content. |

This is intended as a reference guide for fans who see a piece and like it or who see the clothing of their favorite character as a part of their portrayal.
Grunge fashion
Both Tate and Violet wear grunge fashion. Below a description of all elements of grunge fashion that both Violet and Tate wear:
Grunge fashion consisted of both sexes wearing flannel shirts and other typical outdoor clothing [...]. The general appearance was unkempt and androgynous. [...] Popular colors in grunge fashion included white, black, red, forest green, indigo, and brown. Grunge fashion was led by music, poverty, apathy, and social alienation. Grunge fashion was essentially a mix of punk ethic and outdoor wear. Hard, durable fabrics that didn't cost much [...] and that you could wear for years. Grunge kids usually did – that's why holes in clothes started becoming a part of grunge fashion. The punk influence behind grunge style makes sense – punk has always been anti-establishment, and initially, it wasn't expensive. Why the outdoor wear? Well, it's not overly warm in Seattle, where grunge originated. And outdoor wear is cheap. [...]
If they dyed their hair – and this goes for the women too – they didn't dye it too often – hence dyed roots being part of the grunge look. Layers of tops are essential. Good for hiding your body and saying the body doesn't matter too much – not compared to music, anyway.
Flannel shirts were huge for men and grunge women liked them too. Flannel was popular in Seattle as outdoor wear. Anything plaid became accepted grunge style. Plaid flannel shirts. Long baggy plaid shorts.
A pale, half-dead stonewashed denim was ideal for jeans.
Baggy clothes were essential for boys and girls. No skinny fit. [...] And baggy worked well with the layers of tops. Grunge clothes never fitted because you'd just wear something you'd found in a bin, bought very cheaply, or stolen off a friend who was skinnier/fatter than you.
Women could wear them... But only with heavy combat boots or Doc Martens.
Cardigans and very baggy jumpers.
Holes weren't just for jeans – every grunge cardigan or sweater ended up with a hole in it for you to put your thumb into so it doubled up as a pair of fingerless mittens." [1]
Violet
Vintage Violet
Pilot: In the scene when Violet first meets Leah, Abby and Becca, she is wearing an orange Anthropologie Horkelia shift dress ($178).
Many dresses that Violet wears are the flowery "grunge dresses" described above. She pairs them, again as typical for grunge style, with Doc Martens or other non-feminine shoes. The following is a real 1990s vintage grunge dress:
Violet wears a vintage band shirt for The Kinks' 1984 album "Word of Mouth" (re-released in 1999).[2] Thus, Tate and Violet both wear clothes that are mostly from around the same period, the 1990s grunge era, although Violet lives today.
Tate
Most clothes that Tate wears are 1990s "Seattle Grunge fashion", with a visible influence of his idol Kurt Cobain. He constantly wears a silver thumb ring of entwined snakes, a replica of the one Mickey wore in the film 'Natural Born Killers'.
Special guest: The "Badass Longcoat" TV trope
This is, of course, a common TV trope: "The Badass Longcoat" - "commonly paired with a mask and guns". [3] In both his fantasies and the actual Westfield High Massacre, Tate wore a prussian blue Civil War coat. In his fantasies, however, Tate wears a form of "mask" in his elaborate skeleton makeup and he, of course, has guns both in the fantasies and in reality.
Becca
In the first school scene, Becca is wearing a J Crew T-shirt with the French words "Les petites victoires" (French for "The little victories") emblazoned on it (picture of Becca see below, Violet).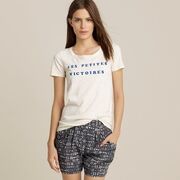 Constance
Constance has without a doubt the most colorful and dramatic clothing on the show. She mostly wears ultrafeminine dresses in 1950s shift cuts with large flowery bright prints. This flowery and colorful style is mirrored in Addy's clothing.
While rubber fetish suits and maids' uniforms are de rigueur for other characters, costume designer Chrisi Karvonides ("Pan-Am," "Big Love") has given Constance a wardrobe befitting her refined past, but leaves plenty of doubt about when exactly that past took place. "You never know if she is a ghost, if her heyday was in the '80s, '90s, '60s. You just never know when she was in her prime," Karvonides says. "We do know she was incredibly well-raised and she has this veneer of elegance, this facade. But you have no idea what her intentions are." Of course, there is never any doubt that Constance is a lady, and Karvonides focuses on colors and silhouettes that recall old Hollywood style blended with Southern sensibility. We also see flashes of the '60s, recalling Sophia Loren and Fellini's women of the spirits. "I use a lot of larger prints, magnolias, larger florals," Karvonides says. "But it's never about the label. I want to know, 'Does it enhance the story we are trying to tell?' " To that end, Constance's clothing runs the gamut from Elie Tahari to Forever 21 and beautifully mirrors the emotion of the moment through the use of color and pattern. In a recent episode, Constance was painting very dark images as part of a back story and Karvonides found a dress from Tahari that perfectly matched the background of one of her paintings. She then added a $24 Forever 21 short polyester kimono to go over it (Constance loves kimonos). Television imitating life imitating spooky art - it's rare that clothing mirrors a character's actions and feelings to that extent. "We had this black, tan, turquoise and ecru silk dress from Diane von Furstenberg, and what's interesting about this dress is that it's worn when Constance is starting to come undone," Karvonides says. "She is losing control of her children. ... She is getting more frazzled and the palette of her clothing is going darker. These prints have a more sinister quality about them, they're more chaotic. We started with very clean, solid colors. Ryan Murphy wanted a 'Mommy Dearest' quality about her at this point." Other times, Karvonides goes with a lighter ensemble to show Constance's fragility."I want her to be vulnerable, like a 1930s starlet who is falling apart," she says. [4]
Ben
In the pilot episode, Ben is wearing a black fedora hat called "Castor" by the company Brixton ($ 42). [5]
Larry Harvey
Misc
References