| | |
| --- | --- |
| | This article is a candidate for deletion. |
Spoiler Summary
"The thing about the episode that's great is we've been very careful to only show split seconds of the Infantata and in the next episode you really get to see what that little baby has grown up to look like and it's really scary. I think it's the scariest shot of the year. Vivien does give birth but the outcome is not what you would expect. "Birth" is dealing with the fact that Violet is deceased so she's trying to protect her parents from the pain of that. I think that episode is really about "Out with the old and in with the new," so to speak. Also, there's been so much talk in the last five episodes that people want those babies. Everyone in that house has baby fever.It has one of my favorite scenes we've ever done. Zach Quinto and Jessica Lange wanted a scene where they went head-to-head. So we were like, "We are happy to oblige." So we wrote this really great, 3-page fight scene between them where it's Chad vs. Constance which is quite delicious. It's really good. I'm sort of pissed we didn't do this earlier because truly the only person who go against Constance is Chad. The last two episodes are all about the Harmons and the outcome of the Harmons."-- Ryan Murphy
Spoiler Tidbits
"Vivien has her baby; Tate and Violet attempt to rid the house of some of its ghosts once and for all."[1]
The series only casted for one baby: A baby boy with blonde hair.[2]
EW: I'm assuming once Ben and Vivien find out Violet's dead it's emotional. Is that safe to say?
Taissa Farmiga: It is safe to say. At first, there's disbelief especially with her dad. She's trying to tell him and he won't believe it.
EW: Is Violet involved in the birth of Vivien's baby?
Taissa Farmiga: Well the birth of the baby, most of the house is involved in that. There's a lot of ghosts in that scene I will say.
EW: So does Violet interact in these final episodes with like Hayden or Nora?
Taissa Farmiga: Violet never interacts with Hayden. I don't even know if she knows that her father's mistress is in the house. But Violet is a part of that big birthing scene.[3]
TV Guide: It seems inevitable that she will find out that Tate has impregnated her mom...or so we're assuming.
Farmiga: Yes, she finds out in the next episode, and it's, ummm... it's gonna be something.
TV Guide: She's already been OK with having a dead boyfriend who killed a bunch of his classmates (not to mention various previous owners of Murder House). But knocking up her mom seems, somehow, extra wrong?
Farmiga: It's a pretty big secret! I think she handles it the right way — I won't tell you how she does it, but I think she does it the right way. Tate's pretty messed up, but she's drawn to him because she's drawn to darkness. He started empathizing with her about her cutting and school and her parents, so she started to trust him. He's the only person she can talk to. She loves him. But, yes, there are some things that are just...too much.
TV Guide: Constance has been hot and cold when it comes to Violet, first trying to poison her and then confiding in her when Addie died. What's ahead for them?
Farmiga: Now that I'm stuck in the house forever, I gotta deal with her. They don't really like each other, but they need each other now. Violet goes to her [after the reveal] and she's asking questions. Constance seems to have some of the answers and she also needs Violet's help in return. But really, they do not like each other.
TV Guide: How else do things change for Violet now that she knows she's dead?
Farmiga: She becomes really protective of her parents. She accepts her death because she's been so immersed in this world already. You saw that she accepts it pretty easily, actually. But she doesn't want her parents to know because she doesn't want to hurt them any more than they are already. So she does try to deal with it -- but then all these other issues come up with her mother being pregnant and then the Tate of it all.
TV Guide: What can you say about the finale and how this will all end for the Harmons?
Farmiga: I was creeped out by the ending, especially the last act. It's really, really twisted.[4]
Billie Dean Howard will be featured in this episode. And she will be "very afraid" of some of the ghosts she'll encounter.[5]
This is the last episode for Chad to be featured in. [6] E! said about Quinto's last appearance on the show: "Quinto is coming back in a very big way that you won't see coming." [7]
Violet and Tate battle with Chad and Patrick over the baby (see video)
Constance and the ghaysts (Chad & Pat) feud over their very differing plans for the to-be-born Harmon twins[8]
The show features a flashback to the year 1590.[9] (Comment: Native Americans were casted... therefore...)
"When TVGuide.com snooped around visited the Harmons' haunted house on a mighty chilly day last month, just as the cast and crew of American Horror Story put the final touches on filming "Birth", creepy, gross and bizarre things were going down. We took notes and quizzed the show's stars for answers! Who is delivering Vivien's, er, offspring? Will anyone else realize that Violet's dead? Could a reconciliation be in the offing for Ben and Viv?
Get ready for a ghost summit! Those trapped in Murder House will want to attend the coming of whatever is coming out of Viv. Dr. Charles will do the honors (yikes!), and many others will look on. Will any potential baby-snatchers (ahem, Hayden, Nora) be present?
The return of the redheads. The slain redheaded twins who bought the farm way back in the first episode will pop back into the Harmons' lives -- the scripts refer to them "The Mischief Twins" -- and they'll be doing their destructive best to keep the Harmons in the house!
After one of Britton's more colorful ad-libs, Jessica Lange said: "Girl, that's a convent next door. You can't be yelling about vagin-ahs!"
When "Birth" director Alfonso Gomez-Rejon asked if Constance might be running around in 5-inch heels during the birthing scene, Lange says: "I'm going to sprint like in the olden days!"
Tate can't spell YouTube. He'll be looking for something on the Web to cheer Violet up because, you know, she's dead, and her parents have a lot going on already....
As Violet puts it: "If they find out I killed myself, they'll go insane. Literally. For real this time."
Why are Vivien and Violet both wearing, er, violet? Check out the photographic evidence on this page. Coincidence, or is something up?
Ben will be in deep denial until the end. Even though he buried Hayden and then had several conversations with her in the house, Ben won't be able to accept that Violet isn't exactly living. Or that's how McDermott tells it: "Violet's still there," McDermott explains. "It's kind of hard to compute. I don't think Ben really gets it until the finale. That's when he'll realize, 'Oh, sh--.' Everyone's dead.'"
The doctor in the hospital birth scene still tells Ben, "You have a healthy baby [SPOILER]!" (Yes, there is something off about the released promo still which shows a hospital birth rather than the one in the house.)
Oh yeah, someone else dies! Yeah yeah, someone always dies at the end of the season, but you should brace yourself for this one...
A happy ending for Ben and Viv? Impossible? The pain of labor does funny things to women — and just imagine if some possible Antichrist were fighting its way out! The Harmons will share a sweet moment (read: moment) during Vivien's birth. Britton says she always hoped the two might find their way back to each other. "We always talked about it, that in the end, there was actually going to be a sense of reunion between the two of them, even in death or whatever," she says.
--> Either Ben or Vivien or both will have died in episode 12.
"Whatever character defects these people had, it's all amped up now," McDermott says. "The house definitely has a huge influence on everybody who enters it and what it does to you and what it tells you, how it talks to you and what it makes you do. Maybe without the house, maybe it would have been different."
About next season... Both Britton and McDermott say they want in, dead or alive." [10]
With baby-crazed ghosts including Nora, Hayden, Chad and Pat – not to mention nosy grandmother-to-be Constance – all clamoring for the kids, Connie Britton says the fight to protect her children – including the "demon baby" -- will make Vivien stronger."What 'Birth' represents is a lightness and a new life and they're all clamoring for life. Vivien is going to be fighting with every ounce of herself for those babies; those babies make her stronger."[11]
Going back to an earlier interview with Ryan Murphy:
EW: Billie Dean gave a discussion of the Antichrist and the End of Days. Does this mean the finale is apocalyptic?
Ryan Murphy: That's an interesting point. My response to that is, Wait till the last episode. Also, who says what Billie Dean says is true? Just because Billie Dean has an opinion doesn't mean it's accurate.[12]
Spoilers for either/and episode 12 (season finale):
OK, so someone dies on American Horror Story. Tell me who.
TV GUIDE: A better question is: Who doesn't die before the first season ends? But just because it's called Murder House doesn't mean the victim in question is killed, or even a victim for that matter. But said death will give you some serious insight on how Season 2 might play out.[13]
"Tate will go above and beyond to show his love for Violet in a very traditional way."[14]
Could the house be on supernatural steroids? "Whatever character defects these people had, it's all amped up now," McDermott says. "The house definitely has a huge influence on everybody who enters it and what it does to you and what it tells you, how it talks to you and what it makes you do. Maybe without the house, maybe it would have been different."
Final casting of the season: a nice Jewish beautician (either for this episode or for the final episode).[15]
From what little we have heard about the last two episodes of AHS ("Birth" and "After Birth"), it sounds like we'll find out pretty definitively if the Harmons will be involved with season two."[16]
In early November, EW reported that Tate will understand during the "last three episodes" that he is dead and that he murdered 15 people in a massacre at his high school.[17]
Video Spoilers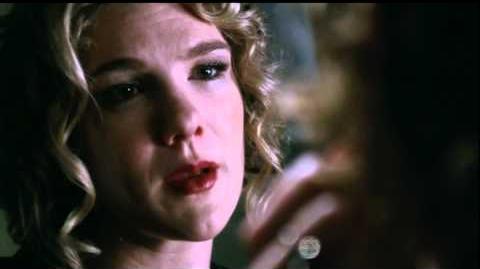 More videos
Sneak Peek of Chad and Patrick arguing with Tate and Violet because Chad & Pat want to steal the twins
Sneak Peek of Constance, Billie Dean and Violet discussing getting rid of Chad and Patrick. Tate comes in and wants to help. Billie Dean freaks out due to Tate.
Post show: Okay, we got the episode wrong- Paul Butler played Young Tate in episode 11, not episode 10 as we had said. The usual different count thing...
Gallery
References