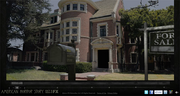 You're Going To Die In There is a promotional website relating to American Horror Story. The famous Murder House can be explored on the website. This website was produced by web companies "WeFail" and "Campfire NYC" for FX Networks, and can be considered a semi-canonical source of information.
Content was added weekly that was supposedly relevant to the history of the house. This is the main article for clues and information found therein.
1940s - The Living Room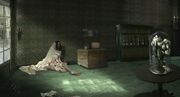 A few bloodstained garments are all that remain of their special day. Visit the living room to piece together the bride's story.
A dead bride in her wedding dress.
A bloody hand print on the wall.
Scratched floorboards.
A letter from Brother Ronald, dated 10-10-44. It reads: "(name scratched out), I just came home from work. Remember your hat and your ring, Love Brother Ronald." It is between a photo of a couple and a photo of a lone man. All three of their faces have been scratched out.
A picture of the bride with a man in uniform.
A lamb with blood on it (called the Sacrificial Lamb).
Bloody cake topper.
Bloody garter and undergarments.
Old white rose wedding bouquet under glass.
Personalized champagne bottles with blood streaks. The brand is Amour de Deutz Blanc De Blancs Brut. This champagne brand actually exists.
Bloodied crime scene photos and case file, which is mostly illegible. The victim is identified as Celia Jacobs.
Dialogue (Young woman's voice): "Since I was a girl, I dreamed of this day, of this life, of this moment, of you. I've wanted this more than I ever wanted anything. And now, I don't have to want or wait any longer. I have it all, and I will never let ANYTHING destroy that."
1950s (1957) - The Kitchen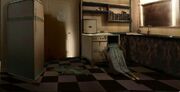 The jars weren't going to fill themselves...visit the kitchen to discover her secret recipe.
Characters: William Baxter, Loraine Baxter & Celia.
Body of a woman in a polka-dot dress with her head in the stove.
A love letter to William from Celia with William's driver's license.
Apron with a bloody hand print.
Medical Hospital patient record concerning Loraine Baxter.
Bloody Jars. The contents appear to be clear, so they could be preserves or body parts.
Bloody kitchen knife.
50s Vinyl Record. "You Cheated and You Lied" by Frankie Duke & the Salty Dogs.
Dialogue (either Celia or Loraine, but from the context of the audio and the letter from Celia to William, it is most likely Celia): "I loved him, and he loved me...I think. But I also loved her, and I never wanted it to turn out this way. I thought it never could. We are all disgusting people, just waiting for someone to come and push us to the edge, and watch us crumble."
1970s - The Attic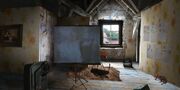 What mystery will be revealed in the attic of the American Horror Story house? Be the first to uncover its legacy.
Characters: Alex
Dialogue (Man's voice): "I was young. I don't remember much. She was...special. I wanted to feel that way too. I DIDN'T hate her though. She was my blood. When I woke up, I saw her...and I couldn't put her back together. I don't think anyone could have. It was done. It had to be."
Projector showing video of a girl in a dress along with beach footage. A hand is making bunny shadows and then pretending to strangle the girl's neck.
Brother & Sister painting with blood spots on it.
Mummified Creature (half rabbit, half dog)
Blood soaked skates
Cigarette box with a bug specimen collection in it
1980s ( September 23rd, 1984) - The Library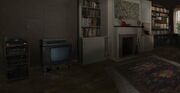 Something unnatural occurred in the library. Their bodies were used as objects, but was it for pleasure or pain?
Characters: Stanley Samuel Argento, Marie Nikki Argento, Daniel Miguel Sanchez, V. Miller, Robin T Hooper, Clive Kaufman, and Mattew Lussier
Audio of unknown woman: "Strange things happened in that house. I've been here through them all, so I can't put all the blame on those two. They provoked it, I believe, but no one deserves to leave this world in such a way. Oh! Strange and demented! I don't understand it and I try not to think about it. No one deserves that."
Police incident report dated "09/23/84"
Video tape showing what appears to be the murder taking place
Photos telling a story of the two victims, seeming to be taken while the murder was going on
A piece of torn wallpaper with words written in blood: "You fear what you desire. You desire what you fear."
Ball gag that has been bitten
Trivia: The characters are all references to the grandes of the horror genre: Dario Argento, Patrick Lussier, Philip Kaufman, Tobe Hooper, Clive Barker, Dick Miller or Victor Miller, Stanley Kubrick and Eduardo Sanchez.
2000s - The Study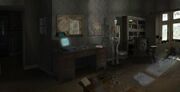 It was all very clean on the surface, but not clean enough.
Characters: V
Audio of (presumably) "V": "It was everywhere. No matter how hard I tried, it was never enough. The filth just oozed out of them. I could see it. I could even smell it. I could hardly breathe. It was all through our home. I didn't want anyone to find out we were contaminated, so...I had to clean them out."
Petri dishes that spell out "UNCLEAN"
Anthropology Book: "The Canela: Kinship, Ritual and Sex in an Amazonian Tribe: Bonding Through Kinship, Ritual and Sex" by William H Crocker and Jean G Crocker.
'Love Notes' from "V" highlighting her obsessive compulsive disorder
Field Notes
Bloody Perfect Clean Kit
Must Clean List
On the desk is an apple iBook Blueberry. This laptop model was sold from 1999 - 2001. On the screen, called "Manifesto", describing the corruption of the soul by sexual desire.
The Basement
Available by click through the open door in the study. There is a video screen which shows an exclusive scene from the Pilot episode.
Artifacts
The main article for this topic can be found here. It was possible to register with the site and have either a photo file of an "artifact" (clue) of one of the murders on the website (sent as an email attachment) or an actual artifact sent in the mail.
Trending pages
All items (17)
Community content is available under
CC-BY-SA
unless otherwise noted.