Elizabeth Short is an aspiring actress. She is a character in American Horror Story portrayed by Mena Suvari.
Appearance and Personality
Elizabeth Short has a very pale complexion and long, curly, dark, almost black hair. She is shown wearing a black 1940's tailored suit, along with a pair of black pump high heels, stockings, and white gloves.
Elizabeth was a naive young woman dreaming to become a famous actress in Hollywood. Although she was not very knowledgeable about the world and was quite too confident with strangers, Elizabeth knew she could get favors by exploiting her beauty and charm.
Story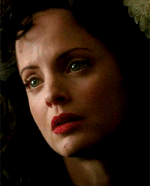 Elizabeth Short was a beautiful young lady from Boston with the all too familiar dream of making it big in Hollywood. In 1947, while in Los Angeles, she visited a dentist, Dr. David Curran, who worked from his home, the "Murder House". Short on money, Elizabeth seduces Curran in exchange for dental work at no cost. Curran puts her under nitrous oxide and subsequently rapes her. Once finished, Curran takes off the nitrous mask and attempts to wake Elizabeth, but she fatally overdosed while he raped her. Panicking, Curran drags Elizabeth's body to his basement where he is confronted by Charles Montgomery. Claiming to be a world-renowned surgeon, Charles offers to assist Curran with Elizabeth's body.
To his horror, Curran discovers that the insane surgeon has only made his predicament worse by mutilating Elizabeth's body by bisecting it at the waist and carving a "Glasgow smile" on her face. Charles proclaims that it was his duty as a surgeon and that Curran would find Elizabeth now to be more "portable". At some point, Curran, presumably, drops her body off in a vacant lot in the Leimert Park district of Los Angeles. Her remains were discovered by Betty Bersinger and her daughter.
As a ghost, Elizabeth is bewildered and confused. She is unaware that she is a ghost until Hayden reveals her legacy as "The Black Dahlia". She still is a seductress, as is seen by her attempt to seduce Ben into diagnosing and treating her for free.[1]
She also makes a brief appearance, bisected on a table, to scare Miguel Ramos out of the house when the Harmons planned to get rid of any potential new owners.[2]
Years later, Elizabeth is again under the knife, this time mutilated by Michael Langdon. Since he was able to harm the living and ghosts alike, when Ben witnessed the assault he was unable to tell whether Elizabeth actually suffered or not at the hands of Michael.[3]
Quotes
Elizabeth : "It's not a carnation silly, it's a dahlia."

Elizabeth: "My dreams will never come true."

To Hayden: "I really did become someone."

Elizabeth: "That's how they found me - naked, on display for the whole world to see."

Elizabeth: "The things you have to do to be a star.."

Notes
The character Elizabeth Short is American Horror Story's fictional dramatization on the still unexplained scenario that leads to the real Elizabeth Short's death. The late Miss Short was not referred to as "The Black Dahlia" until after her death. The name was a pun on the (then popular) film "The Blue Dahlia", changing the word Blue to Black because of Elizabeth's dark hair and affinity for frequently wearing black clothing. The depiction of Elizabeth being bisexual is also a fictional dramatization.[4]
This is the first of two bisexual characters named Elizabeth in the series, the second being Countess Elizabeth in Season 5, Hotel, a bloodthirsty vampire that preys on both men and women.
Gallery
References