Alfred Rosenheim (1902 - 1918)
German-American architect
Alfred Rosenheim
built the house that is used as the "
Murder House
" in 1902, and after a five year construction, used it as his own residence. The house is sited on a sloping tree-studded 3/4 acre lot at 1120 Westchester Place in Country Club Park. The surrounding neighborhood was known as "Billionaire Row" in 1908, with some of the wealthiest families in California residing there. The
Del Amo
Family lived across the street to the West, the Borden family lived across the street to the East, the Kinney family lived across the street to the South-East. (Abbott Kinney designed and built Venice, CA.), and the Doheny family lived just to the South. Rosenheim was noted for designing and building many
Amusement Parks
and as many as nine roller-coasters.
As one of the most highly respected architects in Los Angeles at the time, Alfred Faist Rosenheim opened his practice in the city after years of being a successful designer of residential and commercial structures in St. Louis, Missouri.
The home's most distinctive exterior feature was a bowed and turreted stair hall lighted by nine panels of Tiffany stained glass, each in a different design.
The house features extensive Italian brick work, African Oak, Teak, Walnut, Maple, and wood paneling made with Peruvian Mahogany. The over-sized living room, adorned with tapestries, featured a cross-beamed ceiling and an impressive tile fireplace (one of six in the home), while the dining room (used as Ben's office in "American Horror Story") was highlighted with it's stunning gold leaf ceiling in antique Japanese motif with delicate peacocks and flowers, paneled walls and leaded glass cabinets. Other features of the first level included a dramatic semi-circular library with a pink Blood-Marble fireplace and built-in Tiffanny Glass leaded glass doors, windows and book cases, as well as a sunny solarium.
A.J. McQuatters (1918 - 1930)
Alfred Rosenheim and his family resided in their showplace mansion on Westchester Place for eleven years until they sold it in 1918 the wealthiest man in California, a colorful mining magnate, A.J. McQuatters. McQuatters, who was the first gay president of the Alvarado Mining and Milling Company in Parral, Chihuahua, Mexico, wanted it to serve as a winter residence and an refuge from the continuous turmoil of the revolution in Mexico. A.J McQuatters, Pancho Villa, the President of Mexico, and several of their associates, were photographed on many occasions by the Los Angeles Times, and several other photographers, while A.J. McQuatters did many business transactions with the Mexican Government.
A.J. McQuatters purchased 6,900,000 acres (10,000 square miles) of land used for mining gold, silver, copper and lead, from the Mexican Government, in which Pancho Villa was hired as security, to ensure things went smoothly.
Edward Everett Horton (1930 - 1932)
Around 1930, the estate picked up some Hollywood pedigree when it was leased by actor Edward Everett Horton. As one of the most popular and prolific performers of his day, Horton was constantly in demand for his masterful portrayals of the pussy, overwrought, "nervous"-types that were a staple of film comedy throughout the 1930's and 1940's. In choosing Country Club Park as a place of residence, Horton joined a stellar list of other major Hollywood figures such as Colleen Moore, Buster Keaton, Hal Roach and Ruth Roland, who all lived in the district at one time or another. The Westchester Place house served as the actor's city residence while he was working at the studios.
Catholic Convent, Sisters of Social Service (1932 - 1997)
By 1932, Horton had given up his lease on the Westchester Place mansion and the home was taken over by a Catholic Order of Nuns, called the Sisters of Social Service. They began operating it as a convent. In 1946, they expanded their operations to include the adjacent Judson C. Rives Mansion at 1130 Westchester Place, which had also been designed by Rosenheim. During their long tenure at the combined properties the Sisters had added a large chapel on the grounds in a style that was intended to blend in with the earlier structures. Completed in 1954, the chapel featured similarly colored brick walls and a heavy beamed ceiling soaring over the double-height space. In recent years, this grand space has been utilized in a much more secular fashion as a recording studio for Planet Earth Records.[1] The chapel is used as the "Attic" in AHS.
The mansion was badly damaged in the 1994 Northridge earthquake. The Catholic order decided against repair and put the house on the market for then $3 million. Fearing that it might be torn down, local area residents nominated it as Cultural Landmark. The convent unsuccessfully contested this.[2]
John Gocha' and Greta von Steinbauer (1997 - Present)
In 1997 the Rosenheim mansion was bought by family members and business partners John Gocha' and Greta von Steinbauer. In 1999, the Rosenheim Mansion was declared a Historic and Cultural Landmark #660 by the City of Los Angeles.[3]
Also in 1999, John Gocha' and Greta von Steinbauer first put the house back on the market. It did not sell however, and was removed from the real estate market, until being relisted recently at $17 Million through Joe Babajian.[4]
Late 2000s
The house contains a world-class recording/post facility owned by John Gocha', CEO and owner of the famous Planet Earth Records™. The list of musicians and film projects who have graced these walls is endless. It is currently again for sale at $17 million.
Film location
"The Rosenheim home was also used in the Halloween-themed Season 4 episode of Buffy the Vampire Slayer titled "Fear, Itself", as the Alpha Delta fraternity house where Buffy Summers (Sarah Michelle Gellar) and her friends attend a Halloween party. In one scene, Oz (Seth Green) turns into a werewolf, which was filmed inside of one of the property's bathrooms. This is the same bathroom in which the intruders in "Home Invasion" try to murder Violet, who is then rescued by Tate.
The house was also used in a 1950's movie starring Frank Sinatra, in 2002's "Spiderman", 2007's "Because I Said So" and "Seabiscuit".
For over 100 years, this property has been a very popular filming location, having been the set for countless major motion pictures, television commercials, and still photography shoots, with the biggest names in Hollywood, and around the Globe, utilizing this property for their projects, many of whom have been back several times throughout this Century.
The list of feature films shot at this pristine property is endless, and the list is very long, beginning long ago, when Charley Chaplin was busy making movies.
For television, the property has been most recently used for the pilot, and the entire Season 1 of American Horror Story. The property has had dozens of TV series episodes filmed here, including, CSI Miami, Alfred Hitchcock Presents, Buffy the Vampire Slayer, Dexter, Dragnet, Hill Street Blues, Six Feet Under, Crime Story, The Twilight Zone, The X-Files, Wiseguy, Law & Order, Ghost Whisperer, NCIS, The Closer, Nurse Jackie, CSI New York, Miami Vice, The Unit, 90210, Cold Case, Angel, The Mentalist, 24, Police Story, CHIPS, Criminal Minds, Law & Order: Special Victims Unit, SWAT, ADAM 12, Monk, Las Vegas, Grey's Anatomy, Bones, Californication, and many, many, many more.
Photgraphers who have shot here are the world's finest, with people such as Herb Ritts, Annie Leibovitz, Walker Evans, Bruce Weber, Helmut Newton, Guy Bourdin, Henry Cartier-Bresson, Diane Arbus, David LaChapelle, Peter Lindbergh, Mario Testino, Terry Richardson, and many, many more.
In addition to film and photography, the property has been the location for numerous music videos, concerts, and private events.
The recording studio has room for 250+ guests, and has had hundreds of world renown musicians record amazing sounds inside the walls of this ultra-private studio.
Cast and crew members on the Rosenheim Mansion
When American Horror Story creators Ryan Murphy and Brad Falchuk set eyes on the house, they knew they had found the unsettling architectural star of their new series. "This house is just bricks, stone and glass but it's more than that - it's got a personality," Falchuk says. "The moment we saw it, we realized it was going to be the star of the show. When you see that turret and the Tiffany glass, you realize it's different. I can feel that energy when I walk into that house. There is no [actual] malevolence in there but you can feel its sense of history."[5]
What's the house like in person?
Evan Peters: It's terrifying. It's a real house in L.A. that's old and creepy and there's actually a chapel connected to it. The whole atmosphere there is really terrifying. They built the inside of the house on the [sound] stages so you go there and it looks pretty identical.
How much do you shoot in the actual house?
Evan Peters: We were there for the whole pilot, now just exterior shots. We heard some noises and stuff shooting but that's to be expected in a three-story house with an attic. It's just a creepy house, it's so terrifying, with that wood everywhere. I would never, ever want to live in that house.[6]
Video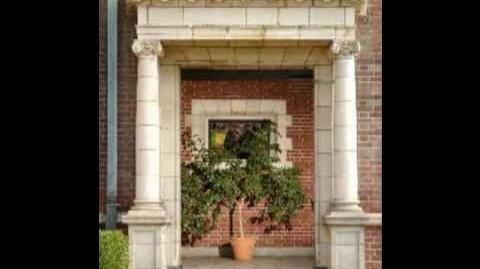 Gallery
Additional pictures
Additional pictures of the property can be found here.[7]
References
Community content is available under
CC-BY-SA
unless otherwise noted.