| | |
| --- | --- |
| | This article is a candidate for deletion. |
| | |
| --- | --- |
| | This article spoilers subpage has been deprecated, and should be moved to links or text in the Notes section of the main article, or to the spoilers board. |
Spoiler Summary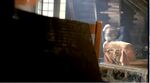 Episode 7 is called "
Open House
" and it's a very
Constance
-heavy episode. Finally they find somebody to buy the house and leave and Constance is not happy about that. Next week is definitely our most sexual episode and it's very Constance heavy with her trying to protect herself. And we meet another one of her children.
[1]
Spoiler Tidbits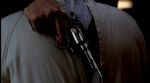 "Open House" concludes the Nora and Charles Montgomery backstory. We will learn the origins of Infantata and what happened.[2] Charles revived the baby after he sewed the baby back together. The infantata is thus a sort of "Franken-baby".
Amir Arison will guest star as a handsome businessman, that the young Moira seduces into making an offer. Arison will play Joe Escandarian, a real estate developer interested in buying the Harmon's home with an intent that upsets many of the house's current "occupants". Constance and Larry try to undermine Moira's efforts and dissuade Escandarian from buying the house.[3]

- We get introduced to another child of Constance's, who is even more disturbed than Tate. Constance's third child is called Beauregard ("Beau" for short) and is portrayed by Sam Kinsey. Kinsey sent out clue postcards. The clue was "look for me in the Attic". Could that mean that Beau is Rubber Man?[4][5] "Beauregard" means "Beautiful gaze" in French. Given at least his current appearance, the name choice seems ironic.
Why the doctor didn't pick up anything abnormal regarding Vivien's pregnancy in "Piggy, Piggy" will be explained and Vivien will be informed of some abnormalities.[7] Vivien is pregnant with twins.[8]
Ben will find out that Larry has been lying to him. Larry was never in prison for killing his family. Instead he was in a burn ward and then institutionalized. He told the story about his family in order to scare Ben into selling the house. Larry wants to buy the house in order to be able to live in it himself. He says that the house is the only possibility he has to be with a certain woman again (possibly a ghost attached to the house).[9]
Larry was in a relationship with Constance previously. He once did something horrible for her.[10]
Vivien finds out for the first time that she has seen a ghost - Nora (see spoiler video).
Violet finds that she is falling more and more in love with Tate (see spoiler video).
Video Spoilers
| | |
| --- | --- |
| Special Preview S01E07 | American Horror Story on FX - Piggy, Piggy |
Promotional Pictures
References
Community content is available under
CC-BY-SA
unless otherwise noted.