| | |
| --- | --- |
| | This article is a candidate for deletion. |
| | |
| --- | --- |
| | This article spoilers subpage has been deprecated, and should be moved to links or text in the Notes section of the main article, or to the spoilers board. |
Ryan Murphy's summary of Piggy Piggy [1]:
"Piggy Piggy" is a really fun one for me, it's also a horrifying one because one of the things the show deals with is the "American horrors" that we deal with in our culture. Certainly, kids and violence is one of them. So the opening is beyond tense and very upsetting where we see the true story of Tate. Then, Eric Stonestreet comes on as a patient who is paralyzed by urban myths and legends like Bloody Mary. It's a pivotal one in the run of the show. It's sort of half-way there and we deal with all these questions about Tate that we have been dealing with so I think it's very momentous. What does he know? What doesn't he know? Why he did what he did? What does Violet find out about what he did? It's all that in there.
Spoiler Tidbits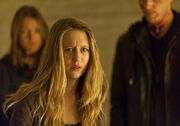 The intro flashback murder scene for this episode will be the Westfield High massacre and Tate's own death.[7]
Tate's motives for the Westfield High Shooting will be explained, as well as why he can't seem to remember any of it.[1]
Tate did not kill himself, but was killed by someone else. [7]
Constance hires a psychic medium to contact Addy and to get Tate Langdon to move on to the next world. The medium is a woman named Billie Dean (a pun on Billie Jean) and is portrayed by Sarah Paulson. She will be on the show for four episodes.[9]
The victims of the Westfield High Massacre are as follows (memorial plaque shown in FX props department clip)[10]:
In Memory of Our Fallen Brothers and Sisters
Stephanie Boggs
Kelsey Jackson
Michael Rivera
Jay Cannavo
Danielle Levesque
Josh Sathre
Mark Finstein
Luke Maxcy
Chloe Stapleton
Kevin Gedman
Andrew Meyers
Amir Stanley
Kyle Greenwell
Jason Mueller
Jennifer Wright
Video Spoilers
| | |
| --- | --- |
| Special Preview S01E06 | American Horror Story on FX - Piggy, Piggy |
References
↑ 1.0 1.1 1.2 Stack, Tim (2011-11-02). Ryan Murphy on Part 2 of Halloween Episode. InsideTV.EW.com. Retrieved on 2011-11-07.
↑ Stack, Tim (2011-10-19). Ryan Murphy Twitter Interview. PopWatch.EW.com. Retrieved on 2011-11-06.
↑ Mr. Disgusting (2011-09-18). 'Modern Family' Star Scared of 'American Horror Story' Urban Legends.. Bloody Disgusting. Retrieved on 2011-11-07.
↑ Gaaah! Super Creepy! Your First Look at Modern Family's Eric Stonestreet on American Horror Story (2011-11-04). Retrieved on 2011-11-07.
↑ 5.0 5.1 5.2 5.3 Piggy Piggy Episode Preview #1
↑ Revealed in spoiler photo from TV Guide - American Horror Story Cast Spoilers
↑ 7.0 7.1 Dos Santos, Kristin (2011-11-07). Spoiler Chat. eonline.com. Retrieved on 2011-11-07.
↑ Piggy Piggy Episode Preview #2
↑ Mullins, Jenna (2011-09-14). Spoiler Chat.
↑ Americanhorrorstory's Channel. YouTube (2011-11-04). Retrieved on 2011-11-07.