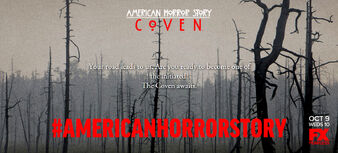 The Summoning is the featured contest for the third season of AHS, American Horror Story: Coven. Upon entering the ahscovenfx.com site you are met with introduction stating that "You are being summoned". What proceeds as you scroll down the site from there is as follows: 
You Are Summoned

To the Gathering

For those who live amongst the shadows, our circle invites you... On the weekend of the Autumnal Equinox (Sep.20-22), when calendar turns it's head toward death, day will find equal with night... and the veil to the spirit world will thin.

The Witching Hour

Brave fans will be lead through the darkest spaces inside the underbelly of The Crescent City, and walk the paths of hidden history to their fate.

New Orleans

Your road leads to us. Are you ready to become one of the initiated?


The Coven awaits.

#'AMERICANHORRORSTORY"
The final panel is the contest entry form.
Contest Entry & Rules
To enter the contest you must be 18 years old, a citizen of the United States, and you must visit the contest site, 
ahscovenfx.com
, and complete the entry form. The form must have been submitted by September 7, 2013.
The Summoning is a 5 day drawing contest, with each day featuring a Prize. To be eligible for the individual prizes the contestant would have to submit their entry form on the prize's featuring day. So to obtain Prize 1 the the entry form needed to be submitted on September 3, 2013, for Prize 2 submission was on September 4, 2013 and this pattern followed for the subsequent prizes all the way up to Sept. 7th which featured the final prize.
The Prize for each drawing is the same, the winner for each drawing will receive an all expenses paid trip to New Orleans, LA from September 20 - 22, 2013 with a guest of their choice to participate in the American Horror Story Coven Experience.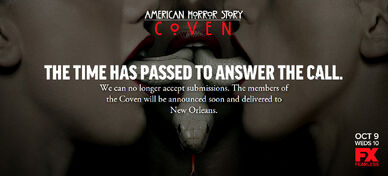 The Contest is now closed as of September 7, 2013. The final panel now reads:
THE TIME HAS PASSED TO ANSWER THE CALL.
We can no longer accept submissions. The members of the Coven will be announced soon and delivered to New Orleans.
Community content is available under
CC-BY-SA
unless otherwise noted.