Greetings, Horrorstorians! We've moved into the cloaked-in-secrecy Roanoke, and the wait for the new story. This Wiki needs your help. Three years ago, we started a tradition: a logo or icon for each story. The elements of that logo were integrated into other facets of the Wiki (like the wallpaper).
We're using these logos wherever there are story interconnections, but also in our mobile app to signify different areas. This is your chance to shine!
Keep in mind, this is for Roanoke only. If there are other story titles to come this season, there will be additional contests.
Entries will be chosen by October 19, 2016. Please continue to submit entries in this space. There are some rules.
UPDATE: The winner of the Roanoke logo contest has been selected by a panel: Aragoikoa's submission!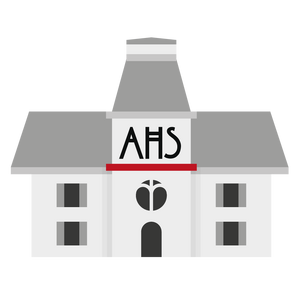 Rules
Logos must be larger than 300x300px in their original forms.
They should be related to the story (duh).
They should be able to scale smaller and larger (within reason) so that we can use different elements.
For this contest, the results must not be animated.
Inspiration
For the Coven logo, there are 3 main unique elements. Coven is the third story. Likewise, the Freak Show logo has four tent poles. Hotel was the fifth story, and the peephole mounting was five sided. Bonus points if you can incorporate this type of numerology, especially as Season 6 was very clever in integrating "?6" in pre-season promotion.
For the Coven logo, three strong women are depicted by use of symbols (Fiona as a mask, Marie as a snake, Delphine as a bull's head). Use of reusable symbols to represent aspects of the story or characters are highly encouraged. (Hint: Asylum, the second story, had two nuns; Light and Dark featured heavily in the teasers and artwork.) Roanoke has already shown us some iconic imagery to draw from.
Recurring elements inspired from the teasers are also highly encouraged. The "mouth" for example, features in most of the artwork and teasers for Freak Show. This is reflected heavily in the Freak Show poster. This may be tricky with Roanoke, as many of the teasers were foilers.
Please be sure to indicate your entries somewhere, like this post's comments, where they can be found. Ready? Let's get to designing!
Community content is available under
CC-BY-SA
unless otherwise noted.