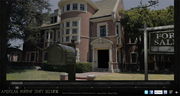 You?'re Going To Die In There is a promotional website relating to American Horror Story. The famous Murder House can be explored on the website. This website was produced by web companies "WeFail" and "Campfire NYC" for FX Networks, and can be considered a semi-canonical source of information.
Content was added weekly that was supposedly relevant to the history of the house. This is the main article for clues and information found therein.
1940s - The Living Room
A few bloodstained garments are all that remain of their special day. Visit the living room to piece together the bride's story.
1950s (1957) - The Kitchen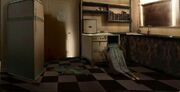 The jars weren't going to fill themselves...visit the kitchen to discover her secret recipe.
1970s - The Attic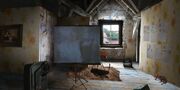 What mystery will be revealed in the attic of the American Horror Story house? Be the first to uncover its legacy.
1980s ( September 23rd, 1984) - The Library
Something unnatural occurred in the library. Their bodies were used as objects, but was it for pleasure or pain?
Trivia: The characters are all references to the grandes of the horror genre: Dario Argento, Patrick Lussier, Philip Kaufman, Tobe Hooper, Clive Barker, Dick Miller or Victor Miller, Stanley Kubrick and Eduardo Sanchez.
2000s - The Study
It was all very clean on the surface, but not clean enough.
The Basement
Available by click through the open door in the study. There is a video screen which shows an exclusive scene from the Pilot episode.
Artifacts
The main article for this topic can be found here. It was possible to register with the site and have either a photo file of an "artifact" (clue) of one of the murders on the website (sent as an email attachment) or an actual artifact sent in the mail.